seo for attorneys and law firms
What is the Purpose of SEO for Law Firms?
Search Engine Optimization – or SEO – is the process of increasing the quality and quantity of website traffic you get from search engines. When someone in your geographic area looks for information relevant to your business, you want to be front and center.
When a law firm or lawyer is rank-1 or page-1 for keywords relevant to their areas of practice, they enjoy a myriad of benefits. The higher you rank, the more website traffic you get. Not only do top-ranking sites get more exposure but they're getting the right kind of exposure. When someone uses a search engine, like Google, they are searching for something specific such as a lawyer in their area. If your website ranks highly for relevant keywords, the increased visitors are people searching specifically for your services. They are not just a general audience segment like many other marketing & advertising avenues provide.
Build trust & credibility with a highly ranked website.
Another key benefit of SEO is the credibility it adds to your firm. People trust Google's intelligent search algorithms to provide relevant results for them. If someone is searching for a lawyer and your website is one of the first to appear, that gives your firm the appearance that you're the best in your area.
On top of the credibility added, ranking higher than your competitors means potential clients are seeing your name and visiting your website first. The average person doesn't want to do hours of research and compare dozens of law firms to make a decision. They use Google to sort the quality of businesses and trust the results. It may not be the best way to evaluate the quality of a lawyer or firm, but it's the reality of how people use the internet today.
Local SEO for lawyers and law firms
Organic rankings can benefit you for years.
One of the most valuable things about SEO is that it doesn't cost anything. Of course, you may invest time or service fees to outsource the work, but obtaining and maintaining organic rankings is free. Making the initial effort or investment to achieve top rankings can benefit your firm for years to come.
There is no denying the value of ranking on the first page of sites like Google for the search keywords that are relevant to your business. The question is, how do you rank in the top spots?
Interested in learning more about our law firm SEO services?
SEO for law firm websites
How Law Firms Improve their Search Engine Ranking
SEO is one of the most technical areas in digital marketing and there are a lot of factors that go into where you rank for different keywords. Search engines also don't disclose the exact nature of their algorithms because they need to protect the integrity of the search results and the benefit to the end-user. By doing that, they prevent "tricks" or "hacks" from achieving page-1 rankings. Rather than looking for shortcuts, the only way to truly have a top-ranking website is to show search engines your site is the most relevant result and they should want to place you in a top spot. Below are some of the most important specific ways to improve your ranking.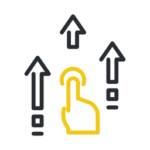 Sites like Google use mobile-first indexing. This means sites that are mobile-friendly are placed higher than sites that are not. More than half of all online activity takes place on mobile devices. Google understands that in order to provide the best search results, they need to provide web experiences that are made with smartphones in mind.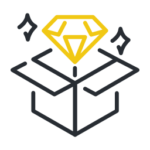 A search engine's top priority is to provide relevant results for the person conducting their online search. If you want to rank for the keywords that are relevant to your firm and areas of expertise, you need to have pages on your website that talk about those topics in depth.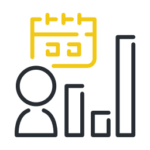 The total amount of content on your site is a factor. The quality of content is very important, but when two sites that are both high-quality are competing against each other, the larger site appears more trustworthy to search engines. A greater volume of content also gives you more opportunity to talk about specific areas of your practice and gives you more potential keywords you can rank for.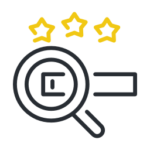 Domain authority includes things like the total age of your site and other trust factors. Your domain authority is like the credit score for your website. You can't directly control every aspect of your domain authority but you'll want to avoid things like keyword stuffing and hidden text which are examples of "black hat" SEO techniques.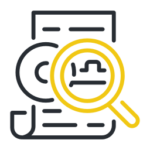 When other trusted websites refer or "link" to your website, that is a backlink. Search engines see this referral as a recommendation from one good site to another. Not all backlinks are created or weighted equally though and you want to avoid cheap link building services that may hurt you more than help.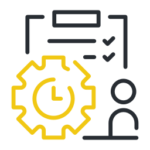 Some of the more complex items that affect SEO include performance, security, and site structure. It's highly recommended that your website has an SSL certificate to protect the data transferred on your site such as on contact forms. Your page speed is also an important factor since search engines don't want to send people to sites that take a long time to load. Other important onsite factors are properly structured header tags, metadata, and alt text just to name a few.
Let's improve your firm's SEO performance.
How We Provide SEO Services for Law Firms & Lawyers
We specialize in helping law firms and lawyers rank for the keywords that will generate high-quality leads. We focus on the geographic areas that are important and relevant to you as well as the keywords that cover your areas of practice. We can provide anything from one-time site optimizations to fully-comprehensive design, optimization, and ongoing content creation services. 
Our SEO process includes:
Keyword research is the first, and one of the most important steps to a successful SEO approach. Conducting thorough keyword research allows you to find relevant but underutilized keywords to help maximize your SEO performance. Working exclusively with lawyers & law firms has given us the experience to know which keywords may be underutilized and earn top rankings quicker than an average campaign.
We evaluate your website and determine what technical areas can be optimized such as reorganizing the site structure, adding header tags and alt text, or improving load times by compressing images. We have the tools & technology to identify areas for improvement and can match those recommendations with our keyword research to see an immediate improvement. 
There is always opportunity for more relevant content to be added to your site for SEO purposes. We have a team of expert writers that understand how to write high-value content with SEO in mind. The best writing implements our targeted keywords in a natural, authentic way that is unnoticeable to the reader. We can also include writing you provide if you want to have a direct say in how your practice areas are explained. We can even provide outlines or writing prompts to make the process easy for you. 
A factor in where you rank is the number of high-quality backlinks your site has. Acquiring genuine backlinks can be very challenging and most people don't even know where to begin. Our team is able to acquire links through guest posts and blog mentions that will improve your SEO ranking. 
Blog Writing & Publishing Services
Content updates through your onsite blog is a great way to increase the volume of relevant content on your site and improve your SEO ranking. This is also an important part of maintaining your ranking once you achieve top placements. Search rankings are all about the competition for those keywords so having an ongoing strategy in place is important in achieving and keeping top-ranking placements.
When we optimize a website that is already built, there are often limitations to how much we can control. By designing an optimized website from the ground up, we can maximize the SEO impact and ensure that everything is done the right way in all areas.
Looking for SEO? Let's talk!
Other Areas We Help Lawyers & Law Firms